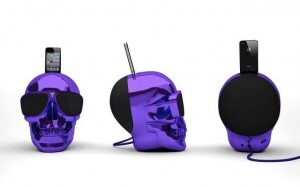 You know how Christmas seems to come earlier each year? Perhaps the same can be said for Halloween.
I mean, when you think Halloween, you think skull-shaped things and all that stuff. Now the Jarre Aeroskull is that, as it is a skull with sunglasses.
It has 15 Watt speakers as well as a 40 watt subwoofer. It does have that thing to connect older models of the iPhone, but you will need an adapter for that new iPhone 5.
You should be able to purchase the Jarre Aeroskull sometime in October for about £349 a pop from October onwards.