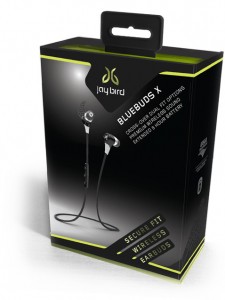 It seems like with every Bluetooth product that comes out, some new spin has to be put on it. The Bluebuds X seems targeted to exercise/sports enthusiasts, and it certainly has what it takes to please them.
Jaybird says that their Bluebuds X is good for eight hours worth on a single charge, so for jocks, that is good for "a week's worth of workouts".
In case you are worried about the Bluebuds X slipping out of your ears while you are jogging, that probably won't happen. It has a patented sports ear cushions that "hug into the top, back, and lower surface areas of the ear". You can see them in the image with those half-boomerang formations. I don't know how to describe the shape better than that.
Did I mention that they have a "warranty against sweat", well, they do. Clearly, I need a more active lifestyle to truly test them, but I have tried them out and I do like them.
I do recommend them, and I will let you decided whether or not they are worth the price of $169.95 on the Jaybird site here in Midnight Black or Storm White.