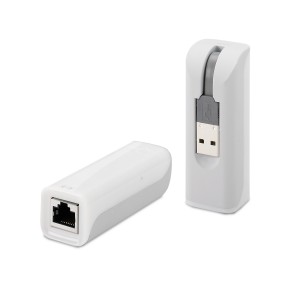 I'm going to be traveling to CES in three months, and I would imagine that I would want a mySpot to take with me. I had a chance to try out the Travel-Size Access Point from Kanex, the makers of the Sydnee.
The mySpot is a pocket-sized access point that you plug into an Ethernet port, and then stick the other end into a USB port. From there, you can enter a default IP address, and create a Password, Channel, and Device IP.
This comes in handy if you want to set up your own Wi-Fi network, and so you can work on multiple devices. The mySpot can support up to six devices which include those that don't connect to the Internet like iPads and iPhones. I suppose that it would be handy for a situation for when you are in a hotel, and you want to give some Wi-Fi love to yourself and all your devices, you can. Of course, the mySpot can work seamlessly with a wired Internet connection that provides Internet access at no cost, like hotels.
If you would like one of your own, head on over to the Kanex site and get it for about $59.95.