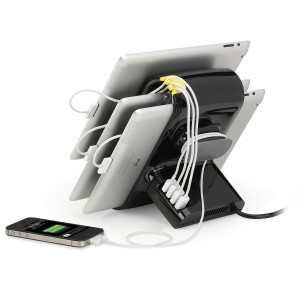 I'm not certain what you think of when you see Sydnee, but it has nothing to do with a city in Australia or the main character on Alias. Okay, there are a lot more famous Sydneys then the one that Jennifer Garner played.
Kanex has recently made a device called the Sydnee, and it is quite something. I suppose that the best description of the Sydnee would be a charger for multiple iDevices. It really is good for anything can charge via USB.
The image here is of the "back" of the Sydnee, and you can see that there are four USB ports good for 2.1 Amps each. The Sydnee comes with 3 cables that are good-to-go for any old Apple product with a 30-pin connector.
The Sydnee has room for two iPads on its "shelves", and I found that the Sydnee was perfect for viewing the iPad like a stand.
The Sydnee is available in black and white, and I noted that the white version has that white and minimalist look that has almost become a trademark of an Apple product.
For those who have many iDevices in the home or office will find that that the Sydnee is one way to reduce clutter and charge the devices as well. You can purchase it on the Kanex site for about $149.00.