Here's a cute little set of wireless speakers with a not-so-little sound. We will review these deceptively petite set of speakers for you today.
Don't let the picture fool you. These speakers are smaller than they may appear. About the size of a golf ball, these speakers only weigh .15 lbs each. They have their own surround sound technology that splits the sound between speakers to give you a mini theater experience.
The battery life for this size of speakers is good. They last about four hours. They sit on a small, magnetic base to charge. Easy to set up, they connect to your Bluetooth-enabled device quite simply.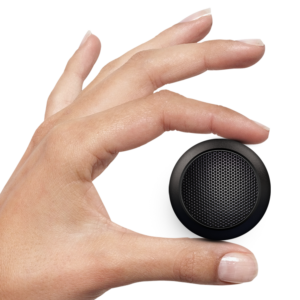 What comes with the X2 Wireless Sound Speakers?
You get a set of X2 Wireless Surround speakers, magnetic charging base, charging base cable, wall plug charging brick, travel straps you can hang around your wrist, and a travel charging cable. It also comes with a one year warranty.
Available in black or silver, you can get these small but mighty speakers for $42.99. Great value for this item that would make a fantastic Christmas present!
Thanks to Kempler and Strauss for sending us this product free of charge in exchange for our fair and unbiased review. We are not otherwise sponsored by this company.