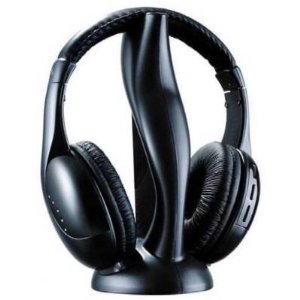 I have reviewed Kinyo products before, most recently the Kinyo ArtDio AW-630 Powered Subwoofer. They have some good tech products, but I will have to say that the Kinyo PW-8899 is a Wireless Headset are some low-priced wireless headphones.
Yes, they are a very low price, and the headphones are pretty low weight. What you are seeing here in the image is a pair of wireless headphones, and the thing they are resting on is the wireless transmitter.
You can plug into the transmitter into the wall (or use 2 AAA batteries) and then plug it into your PC, TV, DVD player, MP3, MP4, or whatever. You will then need to hit a few buttons on the headphones and you will be synced, and you can sync the mic as well. It has a range of about 100 feet, full of "quality digital stereo sound with XBS bass".
I will have to say that the PW-8899 is not the best pair of wireless headphones that I have tried. There is a serious feedback buzz happening while I was listening to them. If I slid the transmitter around on the desk, it really hurt my ears.
I'm not certain whether I can recommend the PW-8899 wireless headphones, as you can get some wirelress ones that work better for a little higher price. If you do want these, you can head to Amazon and lay down $21.99.