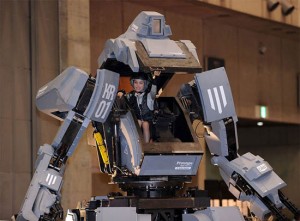 There is nothing that I like more than the mech of science fiction and anime like Robotech or Avatar, but the Kuratas is very, very real. At least, that is what it looks like. You can watch a video of it after the jump and see it in action.
The 13-feet tall, 4 ton mech recently made its debut at Wonder Fest 2012 in Tokyo, and it looks quite genuine. Controlling it is as simple as getting behind the chair and you can remotely control its arms via master/slave, and it can even be controlled by a 3G phone.
Granted, this mech doesn't have legs, but it does have wheels to carry it at a maximum speed of 10 kilometers an hour.
Here is the weapons. Yes, weapons. It has a "Lohas Launcher" that can apparently blast something like water missiles, or something. By the way, its guns can fire 6,000 BBs per minute, and it is triggered by smiling. Seriously, this is what the video says, and warns not to smile to much while shooting.
I believe that this is genuine, and I even have a pricetag of 1.4 million. That's all it takes to make your mech dream come true.