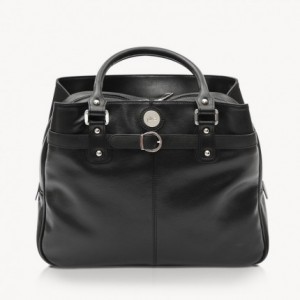 I realize that I have already reviewed a Jill-E product with the Jack Metro Tablet Bag, and the only reason why I am reviewing another is because Jill-E sent me the Laptop Career Bag as well.
As I have said before, Jill-E designs bag for mobile devices that are very Gucci-looking. This one has all-leather construction, and has some interior protection for a 12-inch laptop. I have to admit that 12 inches is really more of a netbook than a laptop, but in all honesty, I can't remember the last time I heard about netbooks. There is also a protective insert for a DSLR and 1-2 moderately size lenses.
There are a lot of interior compartments and it looks like they can hold two mobile devices like a smartphone or a thin device like an older iPod nano. There is even a place to hold a driver's license. Then there are both inner and outer zipper pockets as well.
I cannot say that I would accept the Laptop Career Bag as something unisex, as most would, at first glance, say that it is a purse. If you want to get in on this, feel free to head to the Jill-E site and lay down $239.00 in Black, Chocolate Croc, Vanilla, and Starfish.