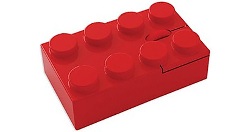 All I've got to say is: isn't this Lego mouse cute? Oh yeah, it is definitely twelve levels of cute, but is it comfortable on the hand?
We'll you can try it out by spending $32 for this mouse with the left and right mouse buttons, a scroll wheel, and optical sensor.
I don't know if it can work with other Lego blocks, but I'm guessing no.