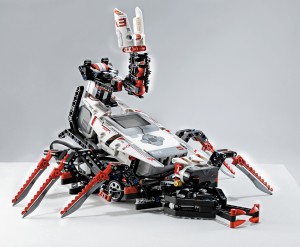 Not being one to miss a party, Lego was on at CES to announce the third version of Mindstorms, the EV3.
Yeah, I don't get the name either, as I can't stand the way letters and numbers are working together like this. If you have never heard Lego Mindstorms, they are a smart toy that has been around for 15 years, and they can be used to make all kinds of smart toys.
The EV3 has a new intelligent brick that is "stronger and faster with more memory and a larger processor". It also has Linux-based firmware, USB port, and SD expansion slot. Apparently, this will give builders more power over their creations.
Look for the new EV3 Mindstorms in the second half of 2013 for a price of about $349.99.