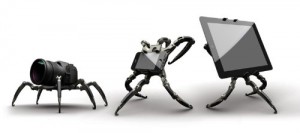 The other day, my son wrote about some fears that he had. One of them was a car accident we had been in, and the other was "Spiders like all over the house". I suppose that a lot of people are afraid of arachnids, but their form is perfect for a mount for a tablet, smartphones, or even a camera.
I suppose this is why Lethal Protection went with a spidery design when they created the Life-Phorm. Granted, it lacks two legs of a spider, and it looks like something from the last Alien movie (not Prometheus). I thought my son would be scared by the Life-Phorm, but he told me: "that doesn't scare me at all". Let's see how non-afraid he is when I leave the Life-Phorm on his floor after bedtime.
Okay, I am totally kidding on that last one, and I think that is enough talking about how sinister the Life-Phorm looks. Surely you can see how it functions as a stand for a mobile device.
Of course, stands for mobile devices are common as bread, what makes the Life-Phorm different is that you can use its legs to position it at just about any angle. What is really cool is that you can use these legs to clamp to things like shelves and what not. I have even seen one instance where it is on the front of a motorcycle.
That's right, these legs have some power, and the hooks on the end really help. I like how the clamping system to hold a device is adjustable for a tablet.
You can get the Life-Phorm at many retail outlets including Amazon for a price of $69.99.