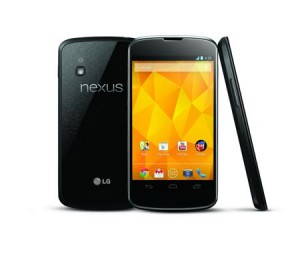 LG announced the Nexus 4 yesterday, a smartphone that the "Life's Good" company worked with Google to perfect.
What is under the hood is a Qualcomm Snapdragon S4 Pro Processor, and it has 2GB or RAM and 16GB of internal storage with Android version 4.2. As for the screen, it has a 4.7 inch True HD IPS Plus display with 1280 x 768 resolution.
As for other bonuses, it has NFC capabilities, an 8-Megapixel rear-facing camera, a 1.3 Megapixel HD front-facing camera, and a 2100mAh Li-Polymer battery. I've also been told that it will feature curved glass edges so your finger can slide smoothly over it, and it has Corning Gorilla Glass 2.
The Nexus 4 will be available on Google Play next month in the U.S., U.K., Canada, Germany, France, Spain, and Austrailia. The price will be $299 for the 8GB model, and $349 for the 16GB variation.