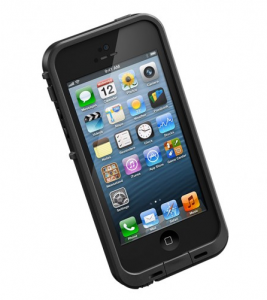 I have reported on LifeProof's products before for the iPhone 4/4S, and I admired what they are doing for mobile devices by making them able to withstand the subtle and daily tares of life. I have to admire the LifeProof fre case for the iPhone 5, and I am told that the name is pronounced like "free", as in you are free to do a lot with your iPhone.
The LifeProof fre case boasts that it is the thinnest, lightest, and strongest all-protective case ever created. I seem to remember some cases for the iPhone 4/4S being metallic in material, and you had to screw them in to get them to work. The LifeProof fre case is light, snaps together, and made of some tough plastic that can withstand a drop of 6.6 feet.
It is also waterproof. You can take it swimming or in the bathtub. In fact, the installation of this case actually encourages you to "fully submerge your case underwater, weighing it down with a cup for an hour". Now that is confidence in what you have created.
The LifeProof fre case also comes with an adapter so you can put your headphones in while listing to music in the water. LifeProof offers a special waterproof adapter if you are going underwater with the iPhone or iPad case which you can get here, and they also resell waterproof headphones for underwater adventures and swimming here.
In addition to being waterproof and shockproof, it is also dustproof and snowproof. Dang. This one really takes one, and more, for the team. If you are looking to purchase the LifeProof fre case for the iPhone 5, head to the LifeProof site and pay about $79.99.