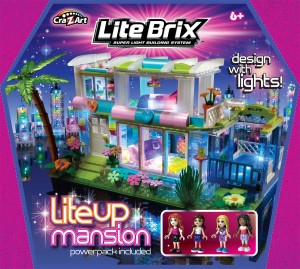 If you really knew me, then you would know why I just had to write about this particular product. Yes, I love Lego, and I have written two books on the subject. One is out now, and I'll tell you about that later. The other is due later this year.
Cra-Z-Art showed off its new Lite Brix designs last night at ShowStoppers, another CES 2013 event. I suppose that the easiest way to define Lite Brix is just Lego that lights up. The bricks themselves are transparent and translucent, and they come with a few bricks powered by 3 "AA" or "AAA" batteries.
In case you are wondering, I have been told that this can work with regular Lego bricks. I realize that it isn't the genuine Lego article, so Lego purists could be offended. Lego already has light up units, but nothing really like this.
The sets themselves cost $19.99 to $29.99, which is definitely cheaper than the price Lego would give them, I am sure. You can find out more information on them here.