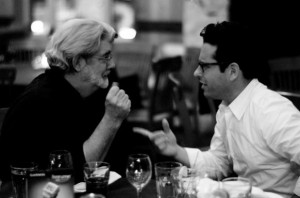 Well, I'm sure that you heard that Disney bought Star Wars, and I probably don't need to tell you that J.J. Abrams is on deck to direct Star Wars Episode VII.
If you haven't heard of J.J. Abrams, then you clearly didn't follow very confusing television shows in the last decade. Yeah, this guy gave us Alias, Lost, Fringe, and has his hand in films like Mission Impossible III, Star Trek, and Super 8.
Yeah, J.J. has had quite a lucrative career, and I would imagine that taking the helm of Star Wars is quite the cherry atop his sundae.
I have been hearing mixed feelings on this. People have been saying that the man who rebooted Star Trek shouldn't have a hand on Star Wars. Then there are others who believe that J.J. Abrams is a cool director who might give the Star Wars films some more life.
Well, I guess we will see how this works out in 2015 when the next Star Wars film is slated to come to theaters.