This new gadget we're about to review has come in handy for me a few times so far. I tend to forget where I put my keys down sometimes, and this little companion on my key ring has helped me quickly find them.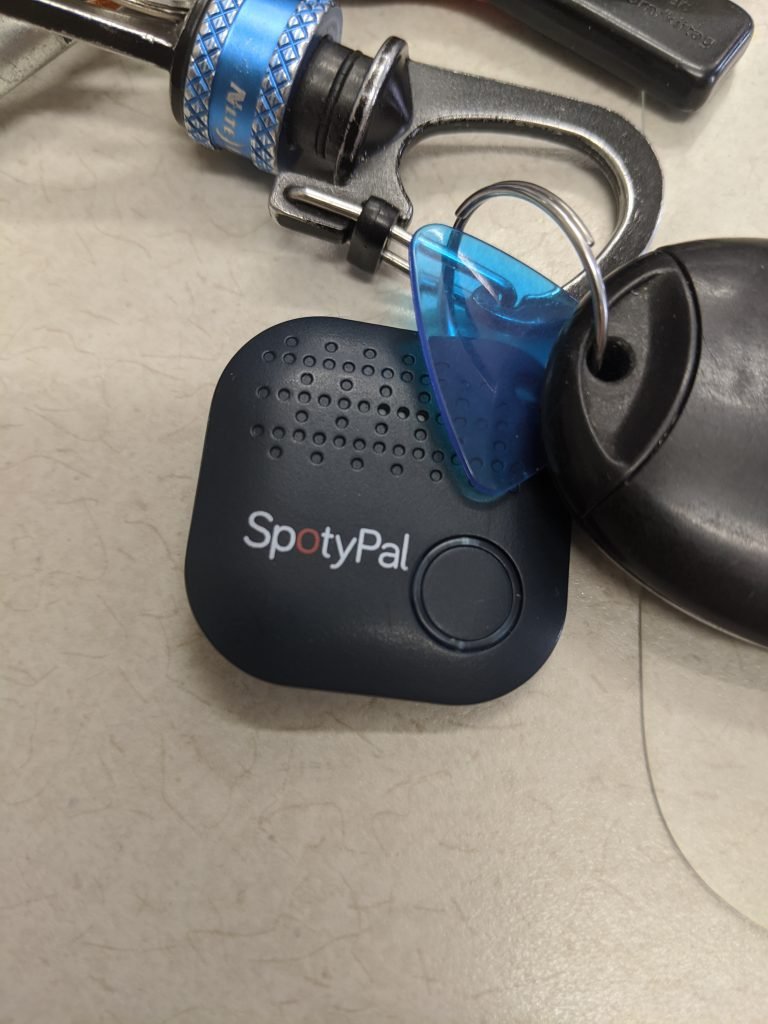 The SpotyPal features some of the same things in other key ring finders we've reviewed previously, but it also has features that you can program in on the free SpotyPal app available for Apple and Android market users. For example, you can program an alarm to wake you up or give alerts(though, I can already set alarms on my phone). The ring sounds a bit like Dr. Who's Sonic Screwdriver.
Another feature in the SpotyPal app is the SOS feature. You can program people's e-mail addresses in so that when you hit the panic button, it will send an alert to these contacts with your message and location. There's also Not to Forget lists. Make lists of items that have SpotyPals connected, and if you start to leave them behind, your app will notify you. If you have your SpotyPal and need to find your phone, you can also make your phone ring with your SpotyPal- even if the ringer is off. Also, if your phone and your SpotyPal start to lose their connection, your app will notify you.
The app seems a little primitive, and slow to load. It does work, though. I've used it to find my keys a few times now. If enough people are using the app, you could also use the Crowd-finding Community to help you find your keys. So you want to make sure you tell your friends about SpotyPal, so they can help you if you ever lose your keys.
To purchase one, you can buy them in Red, White and Navy Blue for $28.99 on their online store now. That's a mark down from their original price of $35. You can even get a pack of eight for $173.99 and attach them to everything you need to keep track of! This is a little more than what the Orbit is going for now, and I hope they will bring it down in price even more. That would be my biggest problem with this product. Also, Orbit offers a lot more colors, works as a selfie remote, and is waterproof..
Still, if you are looking for a device that will help you find your keys, and also alert other people in case of emergency, this could be your solution. We received our SpotyPal for free in exchange for our review. No other compensation was given to influence us in any way.