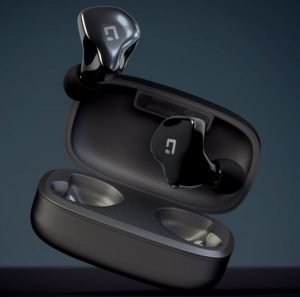 Well, it seems like we are reviewing a lot of wireless earbuds lately with the Jabra ones, and so now we are reviewing something very much brand new with the Lytte HarmoniQ from HarmoniQ Labs.
Here's the part where I say that I haven't heard of this company, but they claim to have the most advanced true wireless earphones that include some Hi-Fi Sound along with a seamless acoustic chamber. Another thing that it looks like the Lytte HarmoniQ have going for them is ergonomics. I mean, look at the shape of this thing! I have never seen anything that looks like it could fit well in the ear canal. It has to do with the same technology that makes the shape of a horn, with the help of some 3D printed acoustic casing.
So that's all well and good, but how long will the battery last? Well, I am told that the Lytte HarmoniQ will have 35 hours of playtime. That's 5 hours on a single charge, and 30 hours with the charging case.
Other features include active call noise canceling, Bluetooth Auto Pair, aptX codec Bluetooth 5.0, touch controls, and they are IPX4 waterproof!
All in all, this is a good deal. The issue is I don't know the price of these, but you can go to the HarmoniQ Labs site for more information.