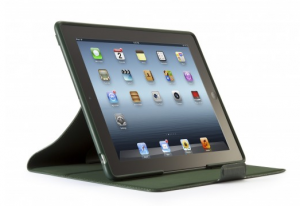 It is true that Folio cases for the iPad are a dime a dozen, and one would have to wonder what Speck, a company most famous for mobile phone accessories has to offer that is anything new.
The deluxe form-fit cradle is different as it is made of genuine leather. Most of these folio cases are made of whatever materials happen to be hanging about, so it is good to see a company taking some time to make it out of quality materials.
Another thing that the MagFolio has going for it is its smooth close tab, which locks the iPad closed with a magnetic click. It also has the luxury of the instant on/off when you open and close the case.
Other features include a bump-proof bezel around the case that protects the buttons. It also allows for "infinite viewing angles". All in all, I would say that Speck gives consumers that which they want and more, completely exceeding their expectations.
Well, if you want to get in on this, feel free to lay down $99.95 for it on the Speck site.