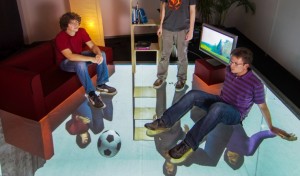 It seems like Microsoft Research has all the cool stuff. Just recently, I heard about the Illumiroom, and now there is this smart floor.
As you can see in the picture, the "mirror" images of the people in the room do not match the people themselves. This is because the images are just computer generated, but they might as well be real as they can imitate their counterparts' actions in real-time.
So how does it work? A high resolution projector along with infrared LEDs that can detect footsteps and other objects for this special effect. It looks pretty expensive to install.
I'm not certain what you would use this for, unless you are attempting some new kind of interface. I don't see why not, and perhaps we could have some sort of Minority Report interface, but with the floor and not a giant transparent screen.
I wish I had some sort of video to demonstrate this tech. It seems like there is always some new thing from Microsoft Research that could change the tech world as we know it. I am almost beginning to doubt the validity.