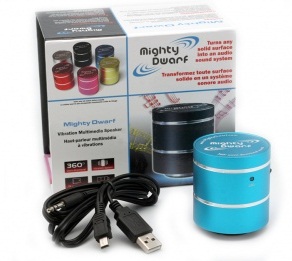 I am not certain why in the world I did not stop by Mighty Dwarf's booth at CES last January, but I am glad that I got to try out their products recently.
The first that I got to try out is the 5W Mighty Dwarf. This is a small can speaker that reminds me of the Boomz Audio Personal Portable Speaker that I reviewed a while ago. The 5W Mighty Dwarf is a 360-degree speaker, and it works on a tabletop or any flat surface.
It works with an iPod/iPhone or any other mobile device with a 3.5mm Stereo Jack. I found the sound quite good for something smaller than those half-can of sodas that apparently some people still buy. It also can work as a stand-alone unit by sticking a MicroSD with MP3 files on the back.
Assuming that you have its Rechargeable Lithium Battery full, it is ready to go. It is available in Black, Pink, Silver, Red, Blue, and Green on from many locations for about $45.00.