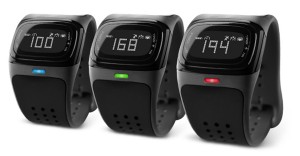 This next product is designed for the athletes, and all else who care about their heartrate.
This is the Mio Alpha BLE, and it is a watch with a continuous heart rate display, which two light beams that detect the heart rate. I actually believe that there are a lot of watches that can do that, but what is different about the Mio Alpha is that the user can set heart rate zones with visual and audible alerts. This way, if you are giving yourself to strenuous a workout, or not strenuous enough workout, you will get an alert.
Yes that is different from most heart-rate watches. And here is something else that makes it different: it has a Bluetooth Smart transmitter for communication with smartphones for a lot of decent fitness apps like Wahoo, Endomodo, and more. This is going to help you out on your workout, a lot.
If this is something that you like, I would suggest you should go to the Mio Alpha site and get it in Shadow (Black frame) or Arctic (white frame) for $199.99.