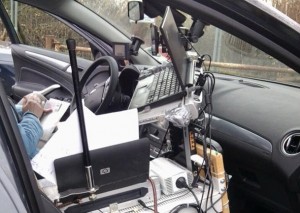 I felt that I had to report on this one.
Apparently, a policeman in the Saarland region of Germany pulled over a Ford Mondeo wagon. The charge was for speeding, as the driver was going 80 mph in a 62 mph zone. When the driver pulled over, the cop had more reasons to write tickets.
This man had a veritable mobile office in the front seat of his car. It has a laptop with a docking station, router, Wi-Fi antenna combined with a cellular data stick, printer, and even a power inverter for it all.
At least the cellular phone was mounted to the windshield for a hands-free use. Now, it is very difficult to prove a tick for distracted driving, but if I was a cop, and I saw this front seat, I think that this is an open and shut case.