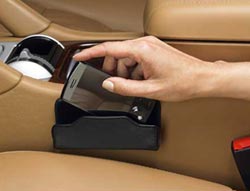 Let me ask you a quick question: when you are driving, where does your phone go? You don't want to be using it, because that is illegal in most states. I am guessing that most people put their phone on the seat next to them or in a cupholder.
Of course, that cupholder isn't made for your phone, is it? This is why I appreciate MobiValet's slogan: "your cupholder can have its old job back". My 2007 car has a place for a smartphone, but until all cars have a place for them, you might want to get a MobiValet.
The MobiValet is designed to stick onto your car's side with a little bit of adhesive, and some velcro is also thrown in the mix. It allows for the phone to be easily accessible in your vehicle, which I don't recommend if you are driving. It is handy to have when you are needing to charge it while you are on the road, which is quite common.
I recently had a chance to try out the MobiValet, and I saw a label that says: fits 99% of all smartphones. Ironically enough, my Droid X did not fit, but it did fit in the MobiValet XL size.
If you want to try and get in on the MobiValet, head on over to the company site. It comes in genuine leather, faux leather, and patent alligator. The prices range from $24.99 to $39.99.