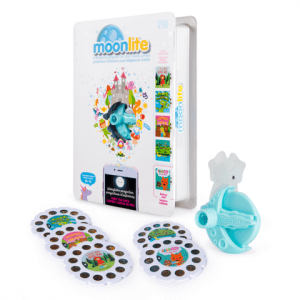 Every once in a while, I review something different, and I have to admit that this Moonlite Gift Pack Projector is something that I have not seen before. I'm actually surprised that I haven't seen something like this before.
I would have to say that the Moonlite reminds me of ViewMasters, and I am wondering how old you have to be not to hear about ViewMasters. For those that are not in the know, ViewMasters were this toy where you put in a reel full of pictures and there would be…dang it, I can't believe that I am having such a hard time describing ViewMasters! Anyway, there was this one ViewMaster accessory (yes, they had them) that could project its images on the wall. The Moonlite would be something like that.
All you need to do is just clip it to your projector, and then turn on the flashlight app, then you have this interesting storytelling device. Actually, I thought that one had to turn on your flashlight on your mobile device and align it to see the cool pictures, but then I saw there was an app.
The app allows the turning on your flashlight app automatically and then it gives the text you read for a story. There is so much story that you can do here, like the works of Eric Carle, Ryan's World, or just some traditional fairy tales.
Some of these story reels are available now, while some are available a later time. You can find out more details on the Moonlite site, and a gift pack talks about $39.99.