If your car is lacking a portable jump starter in its emergency kit, you should definitely look into one. Nothing like coming out to a dead battery with no other cars in sight to give you a jump. We've done reviews of other car battery chargers, but this is somewhat different than those we've reviewed in the past.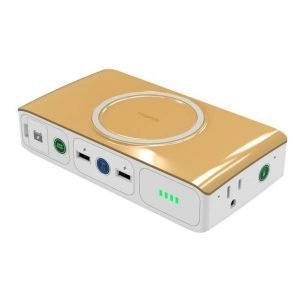 This 7.17 in x 3.82 in x 1.65 inch,  44,400mWh battery bank packs quite the punch with all that it can do- charge your Qi-enabled phone by placing it on top, an AC plug in on the side to power bigger items(up to 65W), two USB-A ports to plug in phones, and of course, the ability to charge your vehicle battery in case of an emergency with spark-proof jumper cables. It also has an LED flashlight on the side to help you see at night. LED indicator lights will tell you how much juice is available in the pack, and there are safety features to prevent from overcharging/overheating.
The charger comes in different colors- Black, Cobalt Blue, Gold, Rose Gold, Camouflage, and a cool Blue/Purple.  HSN seems to be selling them for $109.99 in a few colors. They normally retail for $159.95.This seems to be a lot compared to others we've reviewed, but it also does a lot.
Thanks to Zagg for sending us this product free of charge in exchange for our fair and unbiased review. No other compensation has been given, and we are not sponsored by this company.