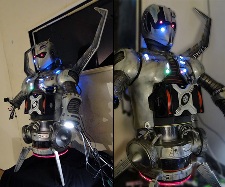 I'm not certain what possessed this modder named Maciel to do this robotic case for his computer, but let's just say that it was something good.
Granted, what would you think if you came into a friend's home and saw the Morphius, this evil robot looking thing? Hopefully, you wouldn't do the Christian thing and try and cast it out. Instead, compliment the person who made it, as its body was hand-carved in clay for a silicone mold. That had to have been a lot of work. Then ask for the specs on it.
I don't think that because its name is Morphius that this is some homage to The Matrix. It looks more like a robotic version of Spawn to me.