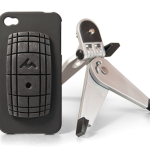 I think it is interesting that we have cameras on our mobile devices, and with a camera can come the need for a tripod, especially with the shaky way we hold our mobile phones.
None of us like to carry around large, human-sized tripods. Why not miniaturize the tripod, so it is is pocket-sized? This Original Modulr Set from MosyMount (pronounced "mosy mount" not "mossy mount") is just that.
It is strangely reminiscent of the Arkon Mobile Grip Smartphone Mini Tripod/Foldable Camera Stand, which I reported on before. The Modulr Set is pocket-sized, and is a mount for an iPhone with a screw hole in the back. It is that same screw-hole that you see in a lot of cameras, a universal measurement for tripod mounts these days.
You should be able to get the Original Modulr Set for about $34.95 on the MosyMount site. It is only available for the iPhone 4 and iPod Touch 4G, for now.