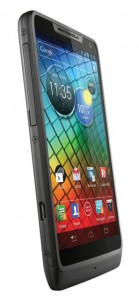 Motorola calls the launch of the RAZRi the "biggest launch since the original RAZR". I am not certain whether or not I can agree or disagree with that, but the RAZRi is essentially apparently a RAZR M with Intel's Medfield 2GHz processor.
Just to let you know, it is a single-core processor. Other specs include a 4.3-inch screen with 960 x 540 resolution which goes from edge-to-edge. The Android phone runs Android 4.0, but it should come out with Android 4.1 (Jelly Bean) in the future. The camera is about 8 Megapixels, and the memory power is at 8GB, 16GB, or 32GB jobs.
It looks like this phone will be coming in October in Latin American and European markets. I would imagine it will be coming here later.