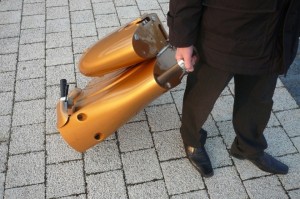 In case you are wondering what you are seeing here, it is a scooter. The MOVEO can actually fold up to fit in a small space.
How small? Not small enough for above the airline seat luggage compartment, but definitely pretty small. The carbon-composite body weighs in at 55 pounds, and, as you can see, it wheels pretty conveniently behind them. When this thing is unfolded, it weighs in at 28 mph, and the battery is good for about 22 miles.
Still, the idea of a scooter that fits in the luggage rack above the seat would be good, wouldn't it? Then you don't have to rent a car when the plane lands. Perhaps Antro, the non-profit Hungarian company that makes these, could work on that. This particular model costs about $3,100 to $4,600.