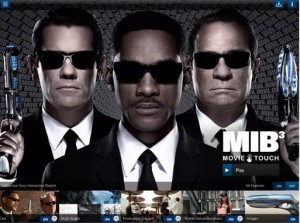 I think that DVD and Blu-ray have given us the power to make our films quite interactive. I still remember seeing DVDs in the early part of the last decade that had some weird thing appear on the screen during the film which led to some special feature.
Sony Pictures have allowed Men in Black 3 to have a special interactive edition known as Movie Touch. Movie Touch is an app that is available for those who have the film already on their iPad. You can download the app for free, and see the first 10 minutes of the film.
I had a chance to try out the MIB 3 Movie Touch, and I found the experience interesting. You can essentially watch the film, and you will see a place below where you can touch to find out movie facts, music, and more. Check out a full list after the jump.
Customizable viewing experience: Choose interactive features to experience or watch the feature film alone.
Filmographies: Tap on an actor's face to access key information on that actor (or alien in the case of Men In Black 3), as well as their character in the film.
Behind-the-scenes videos: Watch behind the scenes video, timed to events in the movie.
Photos and images from the film: Tap on images to explore conceptual art and set photography from the film.
Multi-angle/Green Screen: See stages of a scene's progress and tap or swipe to explore each layer.
Content Manager: Users can download content for offline viewing or stream it via Wi-Fi to free up space.
360 Turnarounds: Spin props, gadgets and vehicles from the films.
Enhanced Search: Search content, dialogue, videos, photos and extras, and instantly jump to favorite scenes, including events inside the film itself.
Clip & Share: Select a clip from the movie, edit it, and share with friends on Facebook and Twitter.
Integrated Social Networking: Share favorite moments via Facebook and Twitter without leaving the app.
Interactive Timeline: Access never-before-known facts about the film universe.
Fun Facts: Learn more about the film, including fun facts about its production.
Exclusive to the Men in Black 3 MOVIE TOUCH app: MIB3 Map, providing more information about MIB headquarters around the world and other key areas from the franchise.
Now, I like this kind of interactivity for a film, but I really want this to be improved. I long for the day where I can just touch something on the screen, and find out everything that I want to know. For example, if I see an extra that looks familiar, I can just touch the person on the screen and see the full resume.
In short, I believe that Movie Touch could be the latest thing for films, provided that users want this. I am not certain if they do. After all, it has been a while since I have seen a DVD or Blu-ray as advanced as this copy of MIB 3. The question is: will we see more.