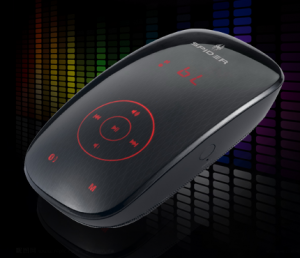 While I was reviewing the cool headphones that I got from Spider the other day, I had a chance to try out this Multifunction Bluetooth Speaker. I have to admit that when I saw it on the box, I thought it was a mouse.
The Bluetooth Speaker is the approximate size and shape of a mouse, but you have to admit that the controls look like that of an old MP3 player. This is not a clicker wheel, but a place for buttons on the black glass surface.
Not only does it do Bluetooth, but it is capable of serving as an auxiliary speaker as well as wireless. In fact, it is possible to insert an SDcard full of tunes and play them one at a time.
So how is the sound? Not bad, and it is has a construction where the woofers and tweeters are on the bottom, and placing it on a tabletop still makes it sound good.
Again, I'm not certain why I don't see more on Spider products. If they are new, then they sure are good. I believe we'll be hearing more about them. If you want it though, go ahead and buy it here for $59.99.