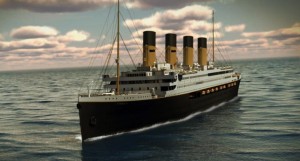 I am not certain how long this one has been in the making, but I have heard rumors that a sequel to Titanic was coming. I'm not talking about the famous James Cameron movie, but the ship.
An Australian billionaire named Clive Palmer wants to re-create the original magic of the White Star ship, only without the tragic maiden voyage. The Titanic II will be a replica of the original RMS Titanic that will actually be three inches longer. It will have that classic staircase, and I believe that it will keep with the original 1912 aesthetic. I have even heard rumors that there won't be any TVs in the rooms, and it will have Turkish baths.
Okay, let's get the jokes out of the way. Will people be separated into classes? I actually heard that the answer to that is yes.
So, will there be enough lifeboats? Yes, it will have 18 motorized lifeboats that can carry 150 people each, and two lift rafts that can carry 400 people. The boat will carry 2,600 passengers with a crew of 900.
So, will there be a Heart of the Ocean diamond on board? Heck no, there wasn't one on the original Titanic. They made that up for the movie.
As mentioned in the title, the Titanic is set to sail in 2016. That's a long waiting list, and I am told that 16 people are already willing to pay top dollar ($750,000-1 million) per cabin.