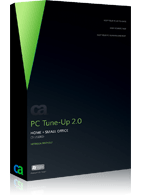 At CES, I had a chance to go to a Build-your-own-PC for charity party, and it was sponsored by CA. They also make PC Tune-up 2.0, and I got a free sample of their software because of it.
I downloaded it onto my computer, in order to make it run faster. It does do quite a bit of defragging, and keeps the drivers updated. After all, the PC Optimizer and disk cleaner work well, and it does make it a bit quicker.
If you want to take a closer look about it, you can read my full review here.