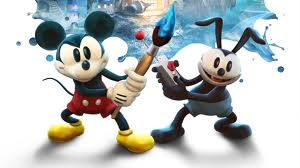 I know I have reported on Epic Mickey Two twice already. The first time was its initial announcement, and the second time was when I got a chance to play it at PAX last summer and even rub shoulders with Warren Spector, the game's creator.
If you aren't familiar with Epic Mickey, it is a new game franchise with Mickey as the hero, but the setting is very intriguing. Mickey Mouse finds himself in Wasteland, a weird version of Disneyland that looks like something out of a Tim Burton film with its out-of-control aminatronics. Mickey is armed with a paintbursh that can spray thinner to remove cartoon scenery, or paint to create things.
Needless to say, I have been looking forward to the Epic Mickey 2, and I was concerned that the turnaround time for the sequel was too small. If there is one thing I can't stand, it is a sequel that is rushed into production just to make more money on the franchise.
This is not the case with Epic Mickey 2, as it feels like a sequel that takes the franchise to a higher level. One of the things I like about playing video games is that characters can be completely immersed in a world that a player can freely explore. The world of Epic Mickey 2 is vast and can easily eat up an entire day.
This can be said of a lot of games, but what really makes Epic Mickey 2 so great is that there is so much to do. There is a storyline that is about another disaster that takes place in Wasteland, and Mickey is once again united with Oswald the rabbit, a very old and once-abandoned Disney character.
Two players can know play the game as a team, but if one player plays, then that player has to be Mickey. This can be very interesting, and the computer is good at using Oswald and his abilities. Oswald has a cool one-button remote control that can shock things and turn-on machines. He also can use his arm as a boomerang and his ears become a helicopter.
There is no shortage of imagination in Epic Mickey 2, and its setting, action, and plot would be enough to sell it. However, Epic Mickey 2 has so many side-quests that they could easily be another game. Like most games, there is a commerce system of cash, and I suppose the E-tickets that Mickey collects could be interpreted as dollars. Mickey can also collect cloth for costumes, scrap metal for various mechanical projects, and so much more. There is also the possibility of using pins to purchase more decorative pins. I realize that most games have rewards for these things, and I am not certain whether or not it is possible to attain them all.
This is what makes Epic Mickey 2, because there is more than one path to take. It isn't like a regular game where there is one path that you just have to stay on. Mickey is allowed to take shortcuts, and is constantly given freedom to wander quite aimlessly.
I would say that I would have to give Epic Mickey 2 four stars, and that is out of four. I found the game addictive, imaginative, and fun.