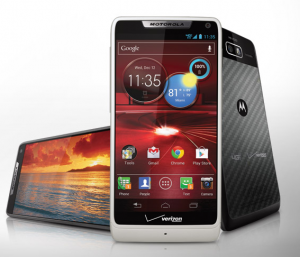 I am certain that a lot of you have received or have given yourselves new smartphones for the holiday. My wife and I have sort of started this new tradition of purchasing phones near the holiday, every two years, starting two years ago. The reason is because this is when the smartphone insurance runs out.
I decided to purchase the Droid RAZR M, as I like Android phones. This one has the latest with Android 4.1, aka Jelly Bean. I have wrote about it at its initial release, and if you aren't familiar with it, it gives "real-time reminders before you even have to ask". I will have to say that I have more updates for more apps than I ever had on my last phone (which used Android 2.3) and these updates are actually necessary.
RAZR M uses the MOTOBLUR version of Android, which is what Motorola puts out. The homescreen shows the time and the weather for whatever city that you want. That is handy, I must admit. The screen is designed to be edge-to-edge at 4.3 inches, and it has a Super AMOLED Advanced display. It definitely is what I am using to watch Netflix. Sadly, my Internet is on the fritz now, so I could use the 4G service that is on the RAZR M.
I will definitely give points to the RAZR M for the camera. I found that I could take very good pictures without even trying, and you can do 1080p video, and still shots on video.
All in all, the RAZR M is a very good smartphone at a good price, available at Verizon for $50.00 with the mail-in rebate in black or white. Of course, I had to go to Verizon and deal with a high bill for all those upgrade plans and all more.
I will let you share on the comment section your stories of new phone woe.