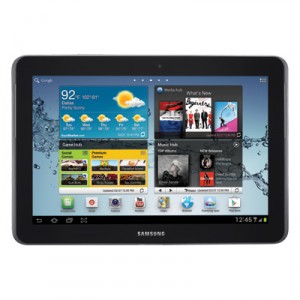 I realize that Samsung just unveiled their new Galaxy Note 8.0 and plan on unveiling the Galaxy S IV later next month. I figure that I might as well get around to reviewing the Galaxy Tab 2 (10.1 inches), as it was provided for me.
I know that my youngest son thought he was looking at an iPad, and I have to admit that the charging cord looks like the 30-in connector that was so popular by Apple. Of course, this is an Android tablet, and it is powered by Android 4.0 (Ice Cream Sandwich) and the interface looks a lot like the one on my Samsung Galaxy S III.
The Tab 2 comes with a lot a apps pre-loaded like YouTube, Google Search, and Maps. It is also equipped to take voice calls, and you can do video calls through Google+.
Another feature is Allshare Play which can connect all DLNA-compatible devices like phones, computers or laptops, enabling you to easily transfer or push to TV. This enables the Tab to be used as a mother remote, which means you can put your favorite Android apps on other displays without an Android Mirror.
The Tab 2 also has Samsung Hubs and S Suggest. I suppose you could call the Galaxy Tab 2 as a "family tablet", and I am not quoting any website for this. I think we are at the point were everyone needs a family, or at least every household. I would recommend the Samsung Galaxy Tab 2 for that, as I personally think you want to get in on that Android thing rather than iOS. I don't want to talk about Windows 8, as I am trying that out this week. I saw it on Amazon for about $268.88, but I don't know if you can get it lower.