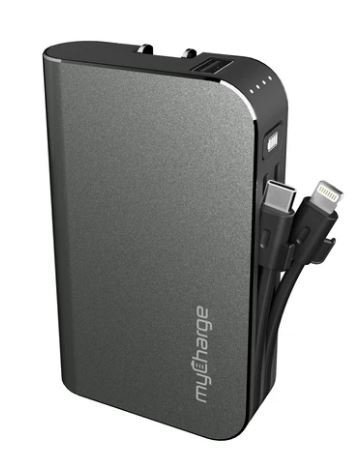 MyCharge has sent us many a portable charger in the past since about 2015. Their chargers have been good to improve and adapt to the latest smartphones over the years. The one we're about to review will quickcharge with its lightning cable and USB C cable. This is the MyCharge Hub 6700 Turbo.
As with some of the other myCharge hubs we've reviewed, there's the fold out plug to charge up the 670mAh capable battery. Four led indicator lights let you know how well it's charged. The flexible USB-C and lightning cables store neatly inside while not in use and makes less mess in your backpack or purse without the extra cables floating around. The high density battery helps to ensure that this device is still small and light. It only weighs half a pound and is 4.1 in x 2.5 in x 0.9 inches in dimension.
This product has other great features like the USB-A port so you can charge another device. The battery is good for about 4x the charge(depending on what you are charging). You can also do pass through charging, and it will protect against overcharging, SmartSense will make sure that only compatible devices are using the battery. It has turbocharge- up to 75 percent faster charging. And it recharges itself quickly, too!
I think this product is of good value at $89.99 on the website. We received ours for free for the purpose of our fair and unbiased review. No other compensation was given for our analysis.