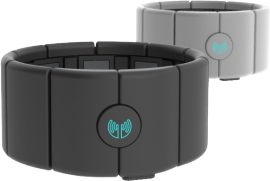 It seems like the future is going to give us motion capture on everything, and the Myo from Thalmic Labs is ready to embrace it.
The Myo uses muscle activity and motion sensors in order to translate a movement. In case you don't believe that it could work, just move your fingers around, and you'll see muscles in your arm working too. The Myo is designed to read these twitches, and it is up to you to decide what to do with them.
As you can see from the video after the jump, you can use the Myo to do many things. Of course, no one has officially authorized it to do so just yet. I don't see why you couldn't, everything has Bluetooth and so does this.
So I suppose this is up to developers to think of what to do with technology. Do you want to just keep it in the offices for making presentations? Maybe we want to use it to control our smartphones? This is tech that I love to see, and I would love to see it applied more.