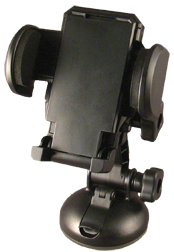 When it comes to keeping the phone in the car, there are many ways. We talked about the MobiValet yesterday, and I would like to talk about a few products from PanaVise.
I will start with the Universal Phone Holder with a suction Cup Mount. This product has a suction cup that can mount to a windshield or dashboard, and can rotate an iPod, iPhone, BlackBerry, GPS, or other mobile device 360 degrees and can tilt 30 degrees in any direction.
The best part of the Universal Phone Holder is that it has adjustable arms for 1.75 to 4.25 inches in width. You can squeeze the arms together on any device, and then hit a button to release it. You can get it on the PanaVise site for about $12.99.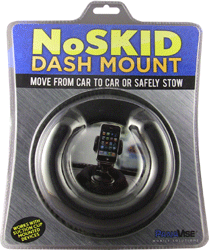 Another device available from the Panavise is the No Skid Dash Mount. This particular device uses weight rather than an adhesive for securing a mobile device to a dashboard. It feels like there is some sort of bean-bag to weigh it down to prevent it from sliding. It can be used with the aforementioned Universal Phone Holder as it has a 3.5 inch diameter disc for the suction cup mounts. It is available on the PanaVise site for $24.99.
While I am talking about some PanaVise products, let me talk about the Dual Car Power Adapter, to turn one car power outlet into two. It is available on the PanaVise site for about $13.99. Then there is the DC to USB Power Adapter, for charging USB-powered things in your car which is on the PanaVise site for about $13.99.