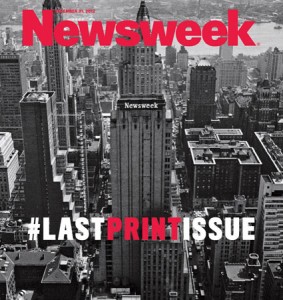 I believe it was Egon Spengler from Ghostbusters who said that "print is dead". I'm guessing that he wasn't the first to say it, and he won't be the last. It seems like a lot of magazines that were successful in print are now completely online.
One of the most successful news magazines is Newsweek, and it is hard to believe that it is going under. Actually, it is going to embrace the digital media, as you can see in this particular image with #LASTPRINTISSUE hashtag.
Well, you had a good run, Newsweek. I wonder if this blog will ever abandon its online format for some other format.