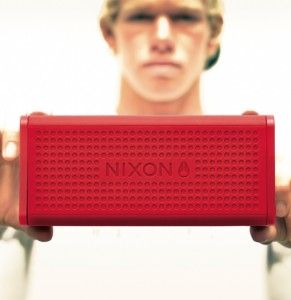 Yes, I have been reviewing a lot of Bluetooth speakers lately, but most of them are designed for indoor use. I'm not certain whether Nixon's The Blaster Bluetooth Speaker is made for outdoor use, but it looks like it could take it.
The Blaster has a lightweight weather and shock resistant body, and is "a true reflection of seeing our 'team-designed, custom-built' focus at work through product and design. Nixon shouldn't be associated with an impeached president anymore.
As I said in the headline, this Bluetooth speaker isn't just durable, but long-lasting. Most Bluetooth speaker are good for about 10 hours on a single charge, but the Blaster is good for about 18 hours worth. Not bad.
I don't seem to have a price on this, but I have a potential release date for May 2013. We'll see how it will survive in crowded world of Bluetooth Speakers.