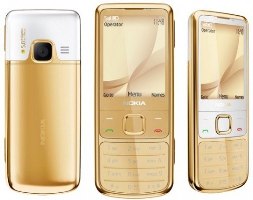 I honestly don't know who the target audience is for this golden Nokia 6700 Classic Gold Edition is, but I'm guessing it is the rich. And by rich, I'm not talking Paris Hilton or Donald Trump rich, but Richie Rich or Scrooge McDuck rich.
Well, I'm assuming that this phone can do everything that the 6700, only it comes with "special wallpaper". I don't know what that is, but it has a limited edition 18-carat finish.
So is this a phone, jewelry, or both? Well, it should be out come 2010 for about $550.
You know, something like this makes you think. We are obviously not feeding the planet, we are apparently in some sort of economic recession, and yet this golden cell phones can be made. A sign of the times, but I'm not certain what times they are.