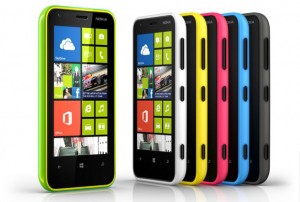 Nokia has recently announced a new Windows 8 Phone with the Lumia 620. Okay, you probably already read that in the headline, so here is what you need to know.
The handset has a 3.8-inch TFT screen at WVGA resolution (800 x 480), 1GHz dual-core Snapdragon S4 Plus processor, half a gig of RAM, 8GB of internal storage, and then 64 GB expandable with an microSD. Also included with this is a 5 Megapixel shooter with an LED flash and can do 720p video, with a front-facing VGA camera.
As you can see in this illustration, it comes in a variety of colors. By the way, the shells are interchangeable and you can get seven different ones to select.
It should be available in early 2013 for a price of about $249.