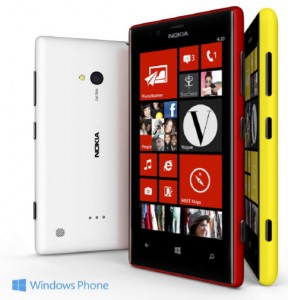 This should be an interesting week with Mobile World Congress in effect in Barcelona, and along with Samsung's announcement of the Galaxy Note 8, and now Nokia just announced a mid-range market phone with the Lumia 720.
The Lumia 720 is a Windows Phone 8 with a 4.3-inch screen, and it has a curved glass display with a 1GHz Dual-core Snapdragon, 512MB of RAM, and WVGA (800 x 480) display resolution. It also has a 2000mAh battery, and there is a microSD option for 8GB can be turned into 16GB.
Windows 8 phones seem to be getting a lot of attention because of their cameras, and the Lumia 720 has a Carl Zeiss f1.9 large aperture lens. It has an effective 6.7 Megapixel main camera, and video capture of 720p 30FPS.
I don't seem to have a price on this guy, but it comes in Red, Yellow, Blue, Black, and glossy White.