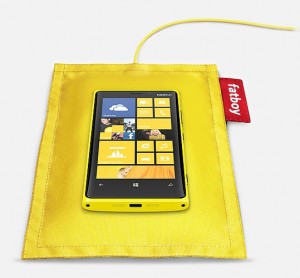 I have seen a lot of wireless chargers before, and they usually follow the model of the Powermat or the BuQu Magnetyze. You know, you lay down your mobile device on it, and it charges thanks to Qi compliance.
If you aren't familiar with Qi compliance, it is precisely what I described above, and Nokia's Wireless Charging Pillow by Fatboy has that too. The thing that makes the Fatboy different is the product seems to present itself as a Beanbag chair for your smartphone. I have to agree with that, as phones really do a lot more work than they did in the past, and they could use a rest. I am told that the Fatboy line of Wireless Charging Pillows were designed by some Dutch guy who made Beanbag chairs. I can't really confirm that, but someone at CES from Nokia told me that.
I had a chance to try it out, and the only problem I had was making certain the cord was plugged in all the way. When it works, and you set the phone on that pillow, you hear that refreshing chime that signals that your phone is powering up. I tried it out on the Nokia Lumia 920, which I will write about at a later date.
The average price that I can find for the Nokia Fatboy Wireless Charging pillow is about $79.00, and it comes in colors of yellow, black, blue, white, and red. It is only compatible with certain phones like the Lumia 720, 820, and 920, and you can find out more information about it here.