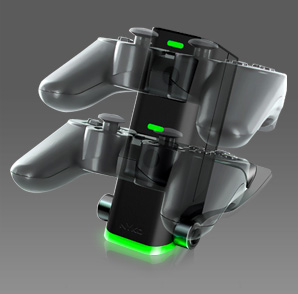 While I was looking at Nyko products for the Xbox 360, such as the Charge Base 360 S, I had a chance to check out a few products for the PS3.
I might as well start with the Charge Base 3 for the PS3. It works as easily as the Charge Base 360. It comes with two USB clips that have a mini-USB plug on them, and the other side is a magnet. With the clips on the SIXAXIS and DualShock 3 controllers, they click into place on the leaning pillar that you see in the picture. As long as the Charge Base 3 is plugged into the wall, the AC power can rapidly recharge the PS3 controllers in just 1.5 hours. You should be able to purchase the Charge Base 3 at the Nyko site for about $24.99.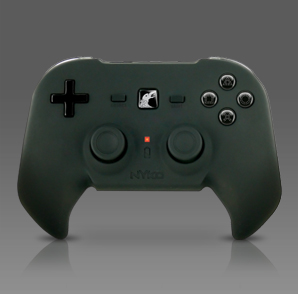 In addition to the Charge Base 3, Nyko has a controller for the PS3 known as the Raven. The Raven is slightly heavier than a typical PS3 controller, but it is definitely ergonomic. The trigger buttons are angled so the fingers will not slip off, and that goes for the handles as well.
All in all, I would prefer playing on this controller. There are some set-backs. First, a USB dongle is required for its wireless connectivity, but I believe this works to give it 25 feet of wireless control. Second, I tried out the Raven on the Charge Base, and it often did not stay magnetically affixed. The Raven does have an interesting feature of an A/B switch that allows for switching control of the trigger controls so that 1=2 and 2=1. I'm not certain if that is important to you, but there it is. You can get this item on the Nyko Site for about $34.99.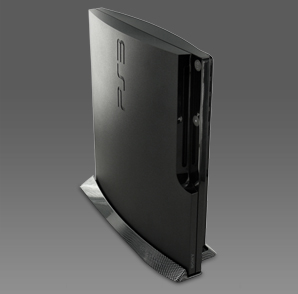 Now let's talk about the Vertical Stand, made for the PS3 Slim. As the name implies, it is made to hold up the console box without blocking any of the back or front of the parts. Like I said before, you might need this. It is available at the Nyko site for about $14.99. Check out all kinds of other Nyko products while you are at it.