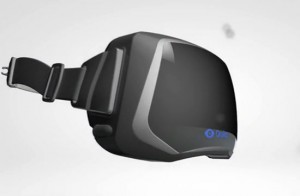 The other day, we were discussing the interesting Augmented Reality goggles the MiRAGE, and now there is some interesting developments in Virtual Reality gaming with the Oculus Rift.
Apparently, this was shown off at E3, and it is really designed to immerse you in a new world of gaming with stereoscopic 3D with "a massive field of view" and "advanced head-tracking technology". This head-tracking tech is good for 110 degrees, with most headsets are good for about 30 and 40 degrees.
Hungry for other specs? How about a USB port, DVI/HDMI, six-degree head tracking, and 1280 x 800 resolution.
This is one of those Kickstarter projects, so it needs your funding to make it happen. Like the Ouya, this needs to make money, but is already making quite a bit on its own, really.
Personally, I think we could use a little more virtual reality action since Virtual Boy. Yeah, remember that 3D gaming thing back in the nineties?