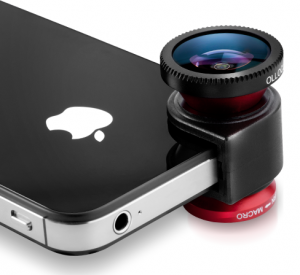 I figured since I have already reviewed the Ollo Clip for the iPhone 4, I might as well check out the iPhone 5 version. For those who aren't familiar with the Ollo Clip, it is a "quick-connect" lens solution for the iPhone. All I can say is that I hope that the iPhone 6 has these 3-in-1 lenses on them, but until then, the Ollo Clip is a snap-on solution for Apple's popular smartphone.
For example, you can do the Fisheye lens, as it is a 180 degree field of view that produces very cool images. Sometimes, they are kind of trippy, even. Too bad this is only designed for the rear-facing camera, as it would make come interesting video chats. Then there is the wide-angle lens made for when the extra field of view is needed, doubling that of the iPhone camera shot.
One of my favorites to use is the Macro lens, which is a 10X multiplier. You can focus the iPhone within 12-15 mm of the subject. In using it, you can focus on things that a regular iPhone camera would get blurry on.
You can get the Olloclip for the iPhone 5 on the product site for about $69.99 in white, red, or black for about $69.99.