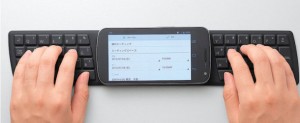 I have always thought that the thing that keeps us from enjoying our smartphones as much as our computers is that whole keyboard thing. I am not used to the touch keyboard, but the generation after me seems to be getting the hang of them.
Imagine if you could just put this smartphone on your keyboard and start typing. The One2Touch from Japan's Elecom uses near field Communication for wireless syncing with the help of some Android and the NFC IP-1 protocol.
It also has an internal battery of about 18 months, and weighs in at about 5 ounces. It is slated for launch in Japan in August for about $240 with a carrying case.