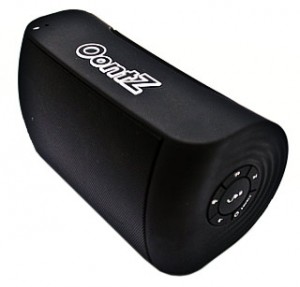 Just when I thought I had seen a Bluetooth Speaker from pretty much every company and their dog, and then along comes the Oontz from Cambridge Soundworks.
In case you are wondering how it is called the Oontz, I believe that this is referring to the cool bass sound when it pumps out like "Oontz, Oontz, Oontz". Apparently, it is the industrial design that created a passive radiator for this pounding bass.
The Oontz is pretty small and can be carried around by hand since it is only 10 ounces. Yes, it is wireless, and pairing it with Bluetooth is easy, and it can be switched just as easily. Also, there is an AUX in connector for wired play if that is your game.
Of course, what good would a Bluetooth speaker be if it couldn't be a speaker phone? Yep, the Oontz can do this, and it is able to switch from music to call. Yeah, practically every Bluetooth speaker can do that, but hey, you need to know that it has it.
Now here is the big surprise, the price. It is only $69.99, which is not as expensive as some of the other speakers out there. You can get the Oontz on the official site here.